Local dentist offers low-cost exams to the uninsured!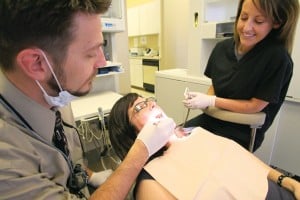 Mountainside Family Dentals Dr. Eric L. Kerbs takes a peek in Deborah Claudio's mouth Monday while dental hygienist Jamie Tieslau assists. The Ahwatukee Foothills dentist is offering a special introductory rate for people without dental insurance. More
Toys For Tots 2011
Dr. Eric Kerbs of My Family Dental donates $5,000 from his charity fundraiser to the Marine Corps for Toys for Tots.
Arizona Heart Transplant Patient - Helped By Dental Angel

s